OPC: Making Naval History
By William Stoichevski
In September, 2016, an U.S. shipyard and the Canadian design business of an Italian-owned Norwegian shipyard won the largest vessel procurement contract in U.S. Coast Guard history. Now, Eastern Shipbuilding will build nine — and possibly many more — Vard Marine designs in its Panama City, Fla., shipyard. Early impressions are of a unique vessel not so unlike comparable European designs by Vard Holdings or parent company Fincantieri. An oceangoing hull of clean, classic — some would say Canadian — lines are the platform for an electronics and weapons payload designed, in part, for (naval) task force command-and-control.
There's much to do at Eastern Shipbuilding. Already, long-lead supply chain orders have gone out for the full nine cutters (one to start with options for eight more). It is understood that two more might be contracted out of a USCG goal of 25 offshore patrol cutters, or OPCs. The family owned Eastern and the globalized Vard Marine in Vancouver will first use the $110.3 million award "to complete detail design" and start accommodating Coast Guard superintendents while perfecting drawings ahead of a building start in 2018. "Vard Marine will be responsible for the functional design of the hull structure and will retain control of the naval architecture aspects of the design through to completion of (the current) Phase II," Vard Marine president and CEO, Dave McMillan, tells Maritime Reporter. Vard and Eastern collaborated for two years to submit the USCG proposal. McMillan says there were "many components" that lead to success. His team was also tasked with the "consulting and proprietary design of the base vessel."
Eastern Vindication
For Vard Holdings, with offices in Canada and the United States, these are early returns for gaining a foothold in two North American markets with giant national shipbuilding programs underway. According to the Coast Guard, the full Phase II design-and-build award has a potential value of $2.38 billion "if all options are exercised." Budget documents suggest that number is roughly evenly split between 2016 and 2017.
"It's the most prestigious offshore patrol project in the offshore patrol segment," said Vard executive vice-president for business development, Holger Dilling, taking time out in western Norway from Vard Holdings' financial reporting in Singapore, where they've recently listed. "We're happy with the position this gives us."
For Eastern, winning the tender is vindication for spending $75 million dollars to upgrade and expand its fabricating capacity. The Florida builder with two shipyards in Panama City has worked with Vard Marine for a decade on successful commercial designs, especially offshore service vessels, or OSVs. For Eastern, the Coast Guard award ushers in a new era by preparing the slip for future commercial and public builds. Investments in new, modular construction has only just added to Eastern's conventional ship assembly, tipping the scales for a Coast Guard that admittedly focused on "management". The cutter confirms Eastern facilities as "some of the most modern and efficient" in the country. Now, "Business is booming … at never-before-seen heights," Eastern heralded in celebration. The yard has delivered 150, mostly mid-sized vessels of up to 433 ft. Their triumph comes at the expense of eight shipbuilders that provided draft OPC designs and, especially, of the shortlisted General Dynamics Bath Iron Works and Bollinger Shipyards, two veteran naval shipyards.
VARD 7 110
While Eastern has reportedly bolstered its engineering department in response to the order, Vard Holdings in Norway has hired "30 percent more naval architects and design engineers" this summer alone. Though partly cruise-ship driven, the Vard Group has delivered 300 vessels since 2000 and sees brighter days. Now with the detail design secured and the cutter project's delivery due in 2021, Dilling could safely say Vard is "entering" the offshore patrol vessel segment (OPVs).
When the list of competing designs was shortlisted to three early in 2016, the USCG said the winners would win on drawings, management, the vessel's "(re)producibility" and price. "The OPC is the most affordable way to meet the service's long-term need for cutters," United States Coast Guard Commandant Admiral Paul Zukunft is quoted as saying. Zukunft's list also included an ability to work with international players. Eastern, the commercial shipbuilder, has found partners in Vard Holdings and Fincantieri with a long CV of projects for world navies and coast guards, including the Irish, Italian, Maltese and U.A.E. McMillan said he looks forward to "supporting" Eastern in building another naval vessel, and Eastern has delivered at least one Vard Marine design every year for the past decade, a list that includes six support vessels for offshore oil and gas.
Shared Designs
Vard's McMillan confirms the VARD 7 110 OPC is the contract design selected to be the basis of the fleet, "However there is still room for changes to be made at the USCG's discretion," he adds. Yet, the basis of the winning design was the Vard 7 090 OPV, a 296 ft vessel capable of 23-knots and already in service with the Irish Naval Service. Three are in service and a fourth is under construction.
The Vard 7 090 does look a little more like the Vard 7 100, a 98-meter arctic OPV vessel design with serious (meter-thick ice) ice-breaking ability that makes 17 knots in open water. Zukunft's budget suggests at least one cutter, or an immediate separate order, will be arctic capable, and Vard and Canadian engineering consultancy BMT Fleet are already understood to be working on project documents for a Canadian "arctic offshore patrol ship" of Vard 7 100 type.
Should the Coast Guard ask for specs or ideas that aid in criminal interdiction work, Vard parent Fincantieri's own 180 ft. Diciotti and Dattilo-classes are regulars of migrant and criminal intercept work in the Mediterranean Sea. The USCG, however, wanted a helideck and place for three rubber inflatables. The Italian-built vessels only seem to accomodate one dingy and no helicopter. To compare, Zukunft's cutters will be 360 ft. long; 54 ft. at the beam; have a 17-ft. draft: a range of 10,000 nautical miles at 14 knots; 60 days of endurance; tw 16-volt marine diesel engines; two five-blade and controllable pitch propellers that'll achieve a top speed of more than 22 knots. There's plenty of room for a helicopter and three RIBs.
Supply Chain
Vard didn't say what Vard equipment, if any, will be aboard the OPC, but the Coast Guard promises a robust capability. A "sophisticated combat system" and a C4ISR communication suite will be onboard, and this will allow the OPV to be brought into action together with other Coast Guard vessels or as part of a larger combat ship group.
"The offshore patrol cutter acquisition is the Coast Guard's highest investment priority," Admiral Zukunft, has been quoted as saying. In addition to fighting "criminal networks off Central America" the Vard 7 110's will also patrol the "increasingly accessible Arctic", a theatre which might require a more closed superstructure, more akin to the Vard 7 100. U.S. "economic interests" will also be enforced with the new boat, a nod to all that goes on out in the nation's 200-nautical-mile economic zone.
"The OPC will bridge the capabilities" of the 418-ft national security cutters and 154-foot fast response cutters by replacing the 270-foot and 210-foot medium endurance cutters, now up to 50 years old," the Service says. A Coast Guard management unit called OPC PRO will oversee construction of the cutter from an on-site facility Eastern is expected to build during winter 2016-2017. All augers well for Eastern potentially replacing more of the 25 mid-water or "medium endurance" cutters with 25 Vard 7 110's — and perhaps a Vard 7 100. The Canadian Navy is understood to be pursuing these vessels for its own cold-water patrols.
Nod to NATO
If Canadian and Norwegian design expertise was given the nod, then so too was Vard's parent company Fincantieri.
Owned by the Italian state via Fintecna, Fincantieri doubled after its acquisition of Vard to become the fourth largest shipbuilder in the world and the largest in the Med. As we wrote these words, Financtieri's Trieste-based minds were making a friendly offer for the 44 percent of Vard they don't own. It's worth noting that in January 2009, Fincantieri bought Manitowoc Marine Group and its two yards in Wisconsin, including the Marinette Marine that built the first Freedom Class littoral combat ship. So, Eastern, it seems, has a rival and a friend in Fincantieri, another maker of mid-sized vessels for the U.S. Navy. So, who knows what may be next from U.S. military-industrial strategists keen to share financial resources with capable NATO allies while also creating jobs at home. For now, all eyes will be on those remaining OPVs.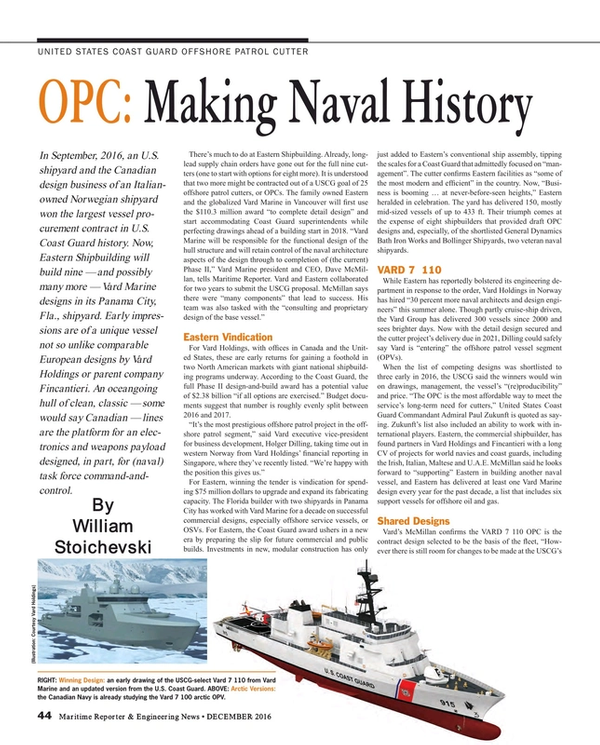 Read OPC: Making Naval History in Pdf, Flash or Html5 edition of December 2016 Maritime Reporter
Other stories from December 2016 issue
Content