C-MAP Plots Its Course On Both Sides
By Regina P. Ciardiello, managing editor
Beginning in the mid-1980's via a brainstorm session for an innovative electronic charting system, by partners, Fosco Bianchetti and Giuseppe Carnevali, CMAP has become a force in electronic charting. MR/EN recently traveled to the company's U.S. division, in the heart of historic Cape Cod in Mashpee, Mass.
for a firsthand account of how C-MAP compiles its real-time, up-to-the minute charting information.
By Regina P. Ciardiello, managing editor While the advent of electronic charts is a historic shift in marine navigation — C-MAP has grown since those first years in the mid-80s as a leading provider of vector-based electronic charts and charting systems to recreational boaters. In fact, the company prides itself on its ability to hold a library of more than 18,000 electronic charts in its database — covering virtually every port and harbor in the world.
Not limiting itself to one area of expertise, C-MAP operates three divisions: CMAP Commercial, C-MAP USA and CMap Aviation — the latter two operating out of the Mashpee locale.
C-MAP's CM93 edition 3's strategy is based on the business model of being able to implement its electronic charts and electronic charting technology into some of the world's largest original equipment manufacturers (OEM's) navigation systems — mainly Sperry Marine, Japan Radio Company, Kelvin Hughes and Raytheon — to name a few.
Since expanding into the commercial side more than 10 years ago, C-MAP holds some of the largest vessel owners as clients, and its reference list includes the tanker series currently being constructed for Polar Tankers, the fleets of the top cruise lines and several West Coast Tanker owners. The company has also established itself on government vessels. In fact, according to Eric James, C-MAP's Commercial Operations Manager, seven out of 10 U.S.
Navy aircraft carriers currently afloat, are sailing with C-MAP's electronic charts.
The software also carries over to other branches of the U.S. Armed Forces, specifically the U.S. Army, who implemented C-Map's CM-93 Edition 3 earlier this year on USAV Lt. William B.
Bunker - a 273-ft. (83.2-m) logistic supply vessel equipped with Integrated Navigation and Situational Awareness Systems (INSA) developed by Conley and Associates of Newport News, Va.
An Italian Foundation C-Map's database was not developed the same way that its information is processed — overnight. Rather it was a daunting, technologically driven task formulated by Fosco Bianchetti and Giuseppe Carnevali in 1984. The two men, who co-founded Navionics that same year, built this company to introduce a new type of charting that was poised to be a historic change to marine navigation. The systems, which would be an enhanced version of the already established raster systems, would provide better display, speed and have greater space for data. Based on official government paper charts, this software would be universal — allowing mariners from the "light" marine world — to plot their courses. Therefore, in 1985, Bianchetti and Carnevali introduced the world premiere electronic charting system, Geonav. Following the success of this project, Bianchetti moved ahead, leaving Navionics to establish C-MAP later that year. Building upon the database that was designed in Italy, Bianchetti literally plotted out additional offices throughout Europe, in maritime strongholds such as Norway and Russia, in 1991, when C-MAP extended its product to ocean-going vessels.
But not before it formed a presence on the other side of the Atlantic in 1988 - under the parent company of CMAP/ Italy. Beginning with just a handful of employees, the U.S. outfit, which has since moved from Pocasset, Mass.
to Mashpee, has evolved into a group of more than 50 employees — within the three divisions.
Based upon its recreational product, which by 1991 had already enjoyed several years of success, C-MAP chose Norway as the basis for its commercial outlet — an outlet that would provide electronic charts for oceangoing vessels worldwide. Previously commercial vessels had only had the option of raster charts, which while they were true-tolife of the paper charts, didn't do much in terms of real-time data; users basically had a photographic image of a conventional paper chart. With vector-based charting, although not replicas of paper/raster charts, they do provide higher functionality as opposed to a raster based system. Some examples include: layering of chart data allowing operators to customize the chart display according to their operational needs, anti-grounding alarms — preset vessel safe contour and the system "looks ahead" for chart features/depths that can pose navigational hazards, course up or relative motion displays.
CM-93 — Information Via the Touch of A Button CM-93 was developed to satisfy the needs of commercial/professional customers as well as to meet the demands of IMO's requirements for a S57 compatible database for use in ECDIS. Suitable for use in ECS (Electronic Charting Systems), C-MAP's CM-93 or SENC (System Electronic Navigational Chart), is DNV (Det Norske Veritas) certified effectively allowing the shore based compiling of official ENC's, when available, and is distributed within the CM-93 database.
A major advantage of CM-93 users that want to sail with official ENC's but do not want to deal with the at sea conversion of S57 data.
While the company has offices located throughout the world boasting teams of people who update the electronic charts on a real-time basis, updates for the Americas, are handled out of the Mashpee location. A team of people who work out of this location, take in information on a daily basis, such as Notices to Mariners and bulletins from the U.S.
Coast Guard, and implement them into C-MAP's database, which is updated daily. Dubbed by the company as a "very large, moving, dynamic database," these updates can then be downloaded via the Internet and integrated directly into the electronic charting system onboard the vessel so that vessel operators are kept abreast of the latest changes in the world's shipping lanes and ports — all with the push of a button. It is important to point out that these update files are quite small in size, a week's worth of updates for the U.S. East Coast is only 50kb, which via a typical Inmarsat connection, can be downloaded in just minutes.
While some may perceive that C-MAP supplies the actual equipment for the bridge system, they, according to the company's V.P. and General Manager, Ken Cirillo, function strictly as provider of pertinent data. "We don't sell these systems, rather we give our OEM's the ability to use our data," Cirillo said.
In essence, C-MAP has mastered the first part of the puzzle for its OEM's, the next piece to concentrate on, according to Cirillo, is the challenge of ensuring that OEM's are integrating the data in a proper, timely manner, as well as promoting the functionality of the actual software. Cirillo cites that one of his main priorities regarding the development of the new CM-93 version is simply "getting the word out." According to Cirillo, end-users need to be aware that this service is available and is relatively easy to maintain and update. In turn, if used effectively, the database can be a useful powerful tool enabling ships' officers at the bridge to operate a safer, more efficient fleet, as well as more effectively manage their integrated bridge systems (IBS).
A Shore-side View From the Bridge Another way that C-MAP has furthered its product base is through its shore-side Geographic Information System (GIS) software product called Ocean View. Designed for use mainly by ship owners, operators and brokers, the company's exclusive program, which is based on the CM-93 database, provides a user-friendly exchange of geo-referenced information among a variety of users.
While visiting C-MAP's Mashpee location, MR/EN was given a demonstration of the program, and even had the ability of viewing such familiar sights and New York Harbor and the Long Island Sound — all in real time — via the true-to-life graphics and latest vector charts included in Ocean View.
With just the click of a mouse, shoreside vessel managers, can literally "micro-manage" their fleets via these graphics and charts. Visually, Ocean- View displays information on a chart background, and via its Database Wizard, allows the user to link up their own databases to the cartographic system.
Other types of information such as bit map images, vessel position and links to industry-related web sites are also achieved via Ocean View.
Designed with C-MAP's latest Edition 3 version of CM 93/3, the program holds vector charts of virtually every navigable waterway worldwide. In addition to providing Internet access for electronic chart updates, the program can also export screenshots via bitmap and/or jpeg format — an added function for use in publications (such as this one) and journals.
In addition to the many OEM's that have employed this data, the main compliance unit of the maritime world, the International Maritime Organization (IMO) in London has implemented Ocean View into its daily operations base, mainly to raise the level of its efficiency and service capabilities.
While C-Map has enjoyed the success of its CM-93 database and the launching of OceanView, the company has not taken to getting comfortable. At last year's Europort Exhibition in Amster- dam, which traditionally serves as a platform for the introduction of new products, the company launched its new C-Star Weather Routing System. Developed in conjunction with DNMI (The Norwegian Meteorological Institute, Marine Forecasting Center), C-Star is a weather overlay tool that can be integrated into OEM's that already employ the CM-93 database. This feature is especially beneficial to the shipping industry due to its ability to calculate the most cost and time efficient route to take in case a storm is brewing — offering precious time and fuel savings. With forecasts provided by worldwide meteorological agencies around the world, (up to ten days in advance, in six hour increments) the user has the ability to plot out a smooth course — not having to worry about possible route diversions and loss of time and/or fuel — thus furthering CMAP's commitment of "tyelping OEM's to build better systems." Circle 55 on Reader Service Card www.maritimereporterinfo.com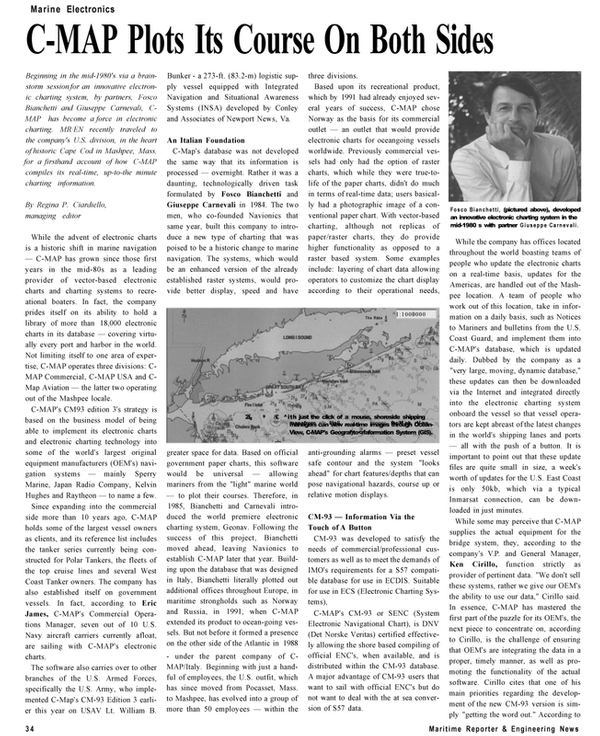 Read C-MAP Plots Its Course On Both Sides in Pdf, Flash or Html5 edition of December 2002 Maritime Reporter
Other stories from December 2002 issue
Content