OUTSTANDING OCEANGOING SHIPS OF 1990
In the midst of a world shipbuilding boom, with the highest level of tonnage under construction and on order in 13 years, shipyards are once again producing a number of interesting, economical and innovative designs.
The highly competitive, burgeoning cruise industry has been a particular source of ingenious and often very imaginative design.
This group of award winners, MARITIME REPORTER'S "Outstanding Oceangoing Ships of 1990," reflects the sophisticated vessels being produced by the world's shipyards.
Highly efficient propulsion, reduced crew requirements, versatile cargo carriage and enhanced maneuverability are just a few of characteristics displayed by this year's selectees.
APACHE SPIRIT Tanker 3.Maj For the fourth consecutive year, a newbuilding from Yugoslav shipbuilder 3.Maj of Rijeka has been selected as one of the annual "Outstanding Oceangoing Ships." This, according to 3.Maj, is no accident.
From its first appearance in the world shipbuilding market, 3.Maj developed a design philosophy based on building custom-tailored vessels.
This year's award winner, the oil tanker Apache Spirit, built for the TeeKay Company, is no exception to this design philosophy. She has an overall length of 809-1/2 feet, molded breadth of 139 feet, design draft of 47 feet and scantling draft of 50 feet. Her deadweight is 111,809 tons at her scantling draft.
With a trial speed of 14.6 knots, she features a 3.Maj-Sulzer 5 RTA72 main diesel engine, rated at 18,614 bhp, which provides the Apache Spirit with optimum performance and minimum fuel consumption.
All of the ship's systems have been carefully chosen and arranged to save space aboard, while providing simple and trouble-free maintenance. The cargo tanks and cargo-handling systems provide both efficient unloading/loading operations and maximize safety against cargo spillage.
Another prominent feature of the Apache Spirit is her shape, designed by 3.Maj and tested by the world renowned Naval Institute of Zagreb.
The vessel's hull form enabled her to achieve excellent results during her sea trials and, according to 3.Maj, should enable her to maintain them during normal service.
AUSTRALIA SKY Product Tanker Samsung Shipbuilding The 33,000-dwt product tanker Australia Sky, delivered by the Koje shipyard of Samsung Shipbuilding & Heavy Industries Co., Ltd., to Caltex Petroleum Company (Australia) Pty., Ltd., is reportedly the first large tanker vessel fitted with a twin schilling rudder system. The Industramar Vectwin Schilling Rudder system provides the vessel with excellent maneuverability in such areas as small harbors and narrow waterways, which are normally under tidal restrictions and offer limited tug assistance.
Designed to minimize operating costs, with such features as a bulbous bow, automated main engine bridge maneuvering system, and a single 8,200 bhp (derated) Hyundaibuilt MAN B&W Diesel model 5S50MC main engine, the Australia Sky carries product oil in eight pairs of tanks from the Australia coast to New Zealand. She has double bottom and double hull construction and is divided into port and starboard tanks by a centerline longitudinal bulkhead.
The Australia Sky is manned by a complement of 26, with an overall length of 592 feet, molded breadth of 88 feet, molded depth of 54 feet and draft of 35 feet.
Some of the special features offered by the Vectwin Schilling Rudder include full 360 degree control of speed and direction by use of a simple joystick control, excellent course keeping under manual or autopilot control, remarkable control and turning ability at any ship's speed from full to zero, and reportedly markedly less vibration than for a conventional rudder system running astern.
CAP POLONIO Containership Flender Werft In the third quarter of this year Flender Werft AG, Lubeck, Germany, delivered the 33,000-dwt containership Cap Polonio to the shipping group Hamburg-Sud-Amerikanische Dampfschiffahrtsgesellschaft in Hamburg, Germany.
Employed worldwide in the shipowners' liner service, the Cap Polonio, with an overall length of 657 feet, molded breadth of about 105 feet, and draft of approximately 39 feet, is capable of carrying 2,000 TEUs, 650 TEUs of which are the Conair system for transporting refrigerated cargo.
She is powered by a single 22,080- hp Sulzer main diesel engine and has a service speed of 18.5 knots.
This vessel embodies a development of Flender Werft's successful standard geared containerships, "Flender 2000," which incorporate some of the major "Ship of the Future" principles. These principles form part of a comprehensive scheme aiming at improved operating efficiency and reduced manning levels. The Ship Operating Center, for example, is arranged for oneman watch-keeping at sea. All the necessary controls and instruments are provided on the bridge.
CEMTEX ORIENT Bulk Carrier Hitachi Zosen The Cemtex Orient, a 71,435-dwt bulk carrier ordered by U-Ming Marine Transport Corp. of Taiwan, was completed and delivered this year by Hitachi Zosen's Maizuru Works.
The 705-foot-long by 105-footwide carrier is the third vessel of the Panamax Optima type developed by Hitachi Zosen as the largest Panama- passable standard economy ship. The Cemtex Orient has a molded depth of 61 feet and scantling draft of 44 feet. She is capable of multi-cargo transportation, such as grain, ore and coal.
The main engine is the energysaving Hitachi Zosen-MAN B&W 6S60MCE-type diesel which, with derated use, enables it to save fuel significantly. The engine has a maximum continuous rating of 10,360 hp at 102 rpm. Service speed for the bulker is 16 knots.
The Hitachi Zosen Super Stream Duct is installed astern to improve propulsion efficiency.
Four 25-ton deck cranes are installed to enhance cargo-handling efficiency.
CROWN PRINCESS Cruise Ship Fincantieri-CNI The first of two luxurious 70,000- grt cruise ships, the Crown Princess, ordered by P&O Cruises was delivered this past year by the Monfalcone yard of Fincantieri Cantieri Navali Italiani.
With a length overall of 804 feet, beam of 106 feet, draft of 26 feet and passenger capacity of 1,950, the Crown Princess is one of the largest cruise ships afloat. She features extensive passenger facilities including lounges, night clubs, disco, casino, shopping arcades, cafeteria, conference room/cinema, two swimming pools, two Jacuzzis, and other amenities. About 80 percent of the 792 passenger cabins have outer balconies.
Alfa-Laval, SpA, Italy, supplied the complete cooling system for the liner.
The ship's graceful and very distinctive silhouette looks somewhat like that of a dolphin. The profile of the "head" constitutes a large front dome over the Belvedere Bar/Casino.
Designed for worldwide cruising, the vessel is powered by a highly advanced diesel-electric plant consisting of four 6.6KV, 60-Hz main alternators driven through flexible couplings by four MAN B&W eightcylinder, in-line L58/64 four-stroke, medium-speed engines, with a maximum continuous rating of 9,720 kw at 400 rpm. These alternators supply power through transformers to the two 12,000-kw, three-phase syn- chronous-type propulsion motors, each directly driving a fixed-pitch propeller via shafting.
CRYSTAL HARMONY Cruise Ship MHI Built at a cost of $200 million, the 48,621-ton luxury cruise liner Crystal Harmony, constructed by the Nagasaki shipyard of Mitsubishi Heavy Industries (MHI), is the first luxury ship for Los Angeles-based Crystal Cruises, a subsidiary of Japan's NYK Line.
Reportedly one of the most spacious ships in her class, the Bahamas- registered Crystal Harmony carries 960 passengers in first class luxury. Almost all of of her passenger cabins are situated on the outside, more than half of which have a private veranda. She also features one of the largest penthouses afloat and the first floating casino to be operated by Caesars Palace of Las Vegas.
The Crystal Harmony's propulsion power is generated by four Mitsubishi- MAN B&W 8L58/64 large bore medium-speed diesel alternator sets. The output is fed via a 6.6 kv main switchboard to two 12 MW Cycloconverter drives, each serving its own 11.5 MW synchronous propulsion motors. ABB Marine supplied and engineered the Cyclo propulsion drives, generators, switchboard, bowthruster motors, integrated machinery and auxiliary automation system.
Plate coolers were installed on the vessel by Kyoto Machinery Co., Ltd., the Japanese division of Alfa- Laval.
Passenger amenities aboard the liner include two heated freshwater pools fitted with movable roofs called Magrodomes, a special piano lounge area with foiliage on the Lido Deck, an Italian restaurant and Japanese restaurant.
DELFIN CARAVELLE Cruise Ship Rauma Yards This past year Finnish shipbuilder Rauma Yards Oy delivered the second of two smaller luxury cruise liners to Delfin Cruise Ltd., a shipping company based in Nauvo, Finland.
Christened the Delfin Caravelle by Mrs. Leena Matomaki, wife of the president of the Rauma-Repola Group, Tauno Matomaki, the liner has an overall length of 382 feet, breadth of 56 feet and draft of 14 feet. Her pair of Wartsila Vasa 6R32Ds produce a total of 3,017 hp at 750 rpm. She can accommodate up to 330 passengers in her 178 cabins, including her eight luxury suites fitted with Jacuzzis and balconies.
Delivered by the yard in about one year, the Delfin Caravelle has conference facilities for 200 participants, saunas with a swimming pool and Jacuzzi, duty-free shop, saloon, casino, club/restaurant with dancing, nightclub/disco, beauty salon, and hospital quarters. The ship's main restaurant can accommodate all 330 passengers at a single seating.
The Delfin Caravelle will cruise during the summer and autumn from Turku to Visby three times per week, Gotland-Borgholm cruises and trips to Tallinn and the isle of Saaremaa in Estonia. The line will also arrange 24-hour cruises as well as conference and charter cruises.
DICTO KNUTSEN Crude Oil Tanker Astilleros Espanoles This year the 797-foot crude oil tanker Dicto Knutsen joined the Knutsen O.A.S. Shipping A/S fleet, following her delivery by the Bilbao yard of Spanish shipbuilder Astilleros Espanoles S.A. (AESA).
Owned by K/S Knutsen AABY Tank, the Norwegian-flag singlescrew tanker is fitted with 11 cargo tanks, eight segregated ballast tanks and two slop tanks. She has a deadweight of 113,131 metric tons at a summer freeboard draft of about 20 feet and 110,135 dwt at a winter freeboard draft of about 21 feet.
Designed with a bulbous bow with transom stern and two-part, fully balanced Willi Becker spade rudder, the Dicto Knutsen is propelled by a single AESA-MAN B&W model 5S70MC diesel engine. The twostroke slow-speed directly reversible main engine has a nominal output rating of 14,630 bhp at 78 rpm.
Maneuverability is enhanced by a single 2,400-hp Lips controllablepitch electric bowthruster.
Electrical power generation equipment includes two generating sets, each set consisting of a Bergen Diesel model KRG-8 engine rated at 1,800 bhp at 720 rpm and an Alconza NIR-6.350A-10 type generator of 1,200 kw, 450 V, 60 Hz.
Freshwater generation is supplied by an Alfa-Laval freshwater generator, producing about 30 metric tons per day.
HORIZON Cruise Ship Meyer Werft This year Chandris Celebrity Cruises added the 46,811-grt luxury liner Horizon to its fleet following her delivery by Meyer Werft's shipyard in Papenburg, Germany.
The $185-million Horizon along with her sister ship, the Zenith, currently under construction at Meyer Werft, are the largest passenger ships ever built in Germany.
The 47,000-grt Horizon has an overall length of about 681 feet, molded breadth of 95 feet and draft of about 24 feet.
The 12-deck ship is propelled by a father-and-son four-engine plant consisting of two MAN B&W 9 L 40/54 "father" engines with an output of 8,152 hp at 514 rpm each and two MAN B&W 6 L 40/54 "son" engines, each developing 5,435 hp at 514 rpm.
ABB supplied the complete modular low-voltage switchgear system type MNS for an installed capacity totalling 20,625 kva and a short-circuit current of 160 ka, and the three-phase AC motors for the auxiliary systems.
Alfa-Laval Industrie of Hamburg, Germany, supplied three separators for HFO with a three-phase motor and electric switching cabinet and a total of seven lube oil separators, two type WHPX 410 and five type WHPX 407, with three-phase motors and electric switching cabinets.
The Liberian-flagged, 1,354-pas- JAHRE TRAVELLER Crude Oil Carrier Brodosplit The last of four Suezmax crude oil carriers for Jorgen Jahre of Norway was delivered by Split Shipbuilding Industry (Brodosplit), Split, Yugoslavia, this past summer.
Classed by Det norske Veritas, the 78,000-gt Jahre Traveller is a single-screw tanker used for transporting crude oil with one continuous deck, a bulbous bow, raked stem and transom stern. She is equipped with eight central cargo tanks, four pairs of wing cargo tanks and two slop tanks at the aft end of the cargo space used as cargo tanks.
She is also fitted with three pairs of segregated water ballast tanks, with the after peak and fore peak used for water ballast.
The Jahre Traveller has an overall length of 882 feet, molded breadth of 146 feet, molded depth to main deck of just over 79 feet. Her scantling deadweight is 142,000 metric tons at a scantling draft of 54.4 feet.
She is propelled by a single supercharged, two-stroke six-cylinder Split-MAN B&W diesel 6S70MC engine, rated at 17,921 hp at 85 rpm mcr, directly coupled to a fourbladed propeller.
Brodosplit developed the ship's body line in cooperation with the Yugoslav Shipping Institute of Zagreb.
The sea trials for the ship showed good performance in the areas of speed and seakeeping, according to Brodosplit.
In fact, encouraged by their success with this particular design, Split Shipyard has developed a new "environmental" design (a doublebottom/ double-skin version) adhering to the same ship's main particulars and body lines.
JANE MAERSK LPG Carrier HHI The first of four 35,000-cubicmeter LPG carriers, the Jane Maersk was delivered this past November by Hyundai Heavy Industries Co., Ltd. (HHI), Korea.
The Jane Maersk has an overall length of 607 feet, breadth of 90 feet and design draft of 31 feet. She has one continuous freeboard deck from the No. 1 cargo hold bulkhead to stern and the cargo space is divided into four holds by transverse bulkheads to suit four freestanding and self-supporting prismatic tanks.
The cargo handling system of the ship is designed for the simultaneous loading, reliquefying and discharging of two cargoes with full segregation.
The Jane Maersk is designed to carry such cargoes as anhydrous ammonia, propane with an ethane content of 7.0 mole percent, butane (ISO and normal), pure propane, butadiene, propylene, butylenes and VCM. Other cargoes may be carried provided that ther toxicity, aggressiveness, pressure, temperature and specific gravity are within design limitations.
The Jane Maersk is powered by a s i n g l e Hyundai-MAN B&W 6S60MC main engine developing an mcr of 15,300 bhp at 102 rpm and an ncr of 13,000 bhp at 97 rpm. Electric power is supplied by three Ssangyong- MAN B&W generator engines driving HEECO generators producing 980 kw each. One 99-kw MAN B&W Demp emergency generator set is also provided.
Maneuverability is enhanced with the use of Lips CP bow and stern thrusters.
NORDIC EMPRESS Cruise Ship Chantiers De L'Atlantique This past year, Royal Caribbean Cruise Line (RCCL) of Miami entered the popular three- and fournight cruise market with its new 1,610-passenger Nordic Empress, delivered by GEC-Alsthom's Chantiers de L'Atlantique shipyard in St.
Nazaire, France.
First class accommodation for 1,610 passengers is arranged in 801 two-berth cabins and four suites over five decks of the 12-deck ship.
Sixty percent of all her staterooms have a view of the sea and 71 deluxe staterooms and suites have balconies.
The centerpiece and crowning achievement of the Nordic Empress is her spectacular atrium called the Centrum, which traverses nine decks and is crowned by a skylight.
The atrium, which incorporates sculpture, plants and even waterfalls, is served by glass-enclosed elevators.
The 44,300-grt, 12-passenger deck Nordic Empress has an overall length of 692 feet, length between perpendiculars of 673 feet, 100-foot beam.
Propulsion power is supplied by two 12-cylinder V configuration Wartsila Vasa 32 and two eightcylinder Wartsila Vasa 32 main engines.
The geared diesels drive twin controllable-pitch propellers at 105 rpm.
Auxiliary power is generated by three Wartsila Vasa 8R32 diesel generator sets, producing a total of 9,300 kw.
Alfa Laval S.A., Les Clayes Sous Bois, France, supplied nine separators mounted on modules with program units, S&T heaters, with sludge tanks, three boosters for ME NORTHERN VENTURE Bulk Carrier Nippon Kokan This past year Japanese shipbuilder Nippon Kokan K. K.
(NKK) delivered the bulk carrier Northern Venture to her owner, Alcan/ Bermuda Ltd. Completed at NKK's Tsu Works, the 36,766-dwt vessel has an ice-reinforced hull to permit year-round navigation to Alcan's Arvida plant on the St. Lawrence River which is frequently icebound.
The Northern Venture is built to carry Jamaican alumina.
The Northern Venture will be joined later by the Northern Progress, also specially reinforced to Lloyd's Ice-Class 1A standards. She is also being delivered by the company's Tsu yards.
The Northern Venture has an overall length of 385 feet, molded breadth of 96 feet and draft of 49 feet. Propulsion is provided by an NKK-Sulzer 7RTA58 main engine with an output of 15,120 hp at 127 rpm, producing a service speed of 14.6 knots.
OSCO STRIPE Product Tanker Uljanik This past fall, the Pula, Yugoslavia, shipyard of Uljanik Shipyard delivered the third in a series of three 40,200-deadweight product tankers, the Osco Stripe, to the Osco Carriers Pool, under the commercial management of Osco Shipping A/S.
The Osco Stripe, like her sister ships, will serve to widen the scope and flexibility of the pool which currently totals 11 vessels.
Classed by Det norske Veritas as + A1 Tanker for Oil and Caustic Soda, EO, COW, Inert, the 577-foot Osco Stripe is propelled by a MAN B&W-Uljanik slow-speed, longstroke, direct reversible, constant turbocharged 5L50MC diesel engine.
The specified power for propulsion without the shaft generator is 9,225 hp at 111 rpm. Maximum continuous output is 10,500 hp. Her four-bladed, fixed-pitch propeller was supplied by Lips BV.
Auxiliary power is supplied by two 6ATL250 Jugoturbina-Sulzer diesel generator sets, each developing 1,200 kw at 900 rpm. The generators are Uljanik-built Siemens type S7198 with nominal power of 1,350 kva.
The Osco Stripe has a molded beam of 105 feet, depth of 49.5 feet, summer draft of 36.8 feet deadweight at design draft of 34,300 dwt and deadweight at summer draft of 40,200 dwt.
Her cargo tanks are laid out in a configuration with six center tanks and 14 wing tanks with an aggregate capacity of 45,000 m3 when 100 percent filled. She has double bottoms beneath all her cargo tanks.
PECOS Fleet Oiler Avondale Industries The U.S. Navy fleet oiler Pecos (T-AO-197) was delivered this year by Avondale Industries, Inc.'s Shipyards Division, New Orleans, La., to the U.S. Navy.
Built with the use of modern modular construction techniques, the Pecos is 667-1/2 feet long, with a beam of 97-1/2 feet and maximum draft of 36 feet. Her main propulsion consists of two 10-cylinder PC4.2 Colt-Pielstick diesel engines manufactured by Fairbanks Morse Engine, a division of Coltec Industries, Inc. (formerly Colt Industries).
The engines are capable of burning heavy fuels of up to 3,500 sec Redwood at 100 degrees F. The fuel rate guarantee is 136 grams/ metric horsepower hour. The twinscrew design provides the T-AOs with improved directional stability, ease of control and mission reliability.
Capable of speeds of 20 knots, the mission of the Pecos is the transport of bulk products and fuel to shore depots to combatants and support forces underway.The new oiler has a cargo capacity of 183,500 barrels of oil in 18 cargo tanks and is capable of simultaneously receiving, storing and discharging two separate grades of cargo fuel. All cargo valve and pump operations and the ship's segregated ballast system are manipulated from the cargo control center located in the ship's aft superstructure, which has an overview of the entire underway replenishment deck.
Cargo underway replenishment is accomplished using transfer hoses suspended by a span wire automatically maintained in a constant-tension range.
RAILSHIP III Train Ferry Schichau Seebeckwerft This year, Germany's Schichau Seebeckwerft AG,a member of the Bremer Vulkan Group, completed what is reportedly the world's largest train ferry, the 622-foot Railship III, for the Railship Group, Liibeck- Travemiinde.
Managed by the German shipping company H.M Gehrckens GmbH, Hamburg, the 10,000-dwt railferry adds about 2,000 meters of rail length on three decks to the Railship Group's total of 5,600. Like her sisters, Railship I and Railship II, the railferry operates between Travemiinde in Northern Germany and Hanko in Southern Finland.
The Railship III, with a width of 70 feet and design draft of 19 feet, carries 90 railcars on three decks.
Private cars can be loaded on the weatherdeck by car-loading/unloading davits on both sides of the ship.
Built to meet the requirements of Germanischer Lloyd Class E4 and Finnish Ice class 1A Super, the Railship III is propelled by a pair of Wartsila Vasa 46 main engines, the most powerful diesels built by Wartsila Diesel, which each generate 8,145 kw (10,922 hp) at 450 rpm.
Designed for heavy fuels up to a viscosity of 700 cSt/50 degrees C, the engines drive a Lips CP propeller through Lohmann & Stolterfoht reduction gearing.
Auxiliary power is supplied by two Wartsila Vasa 4R32 heavy fuel engines, which produce 1,620 kw each at 720 rpm. The auxiliary engines operate on the same fuel as the main engines.
RELENTLESS Ocean Surveillance Ship Trinity Marine The Trinity Marine Group's Halter Marine, Inc., Moss Point, Miss., shipyard completed a six- ship, approximately $85-million contract with the U.S. Navy, with delivery of the ocean surveillance ship USNS Relentless (T-AGOS 18).
The last of 18 planned monohull T-AGOS class ships to join the Navy's ocean surveillance program, the 224-foot-long Relentless has a beam of 43 feet and draft of 15 feet 1 inch.
Operated by the Military Sealift Command (MSC) and staffed by civilian technicians, the Relentless will tow electronic devices to monitor the movement of submarines.
The Relentless will deploy towed linear arrays of hydrophones known as the Surveillance Towed Array Sensor System (SURTASS). SURTASS is comprised of flexible, neutrally buoyant cable containing a clarge number of passive microphones, each tuned to specific frequencies enabling identification of noises made by submarines many miles away.
The data is processed and transmitted to shore via satellite, where it supplements information from seabed arrays.
Main propulsion and other ship's service on the Relentless is dieselelectric, provided by four Caterpillar/ Kato 600-kw generators driving two General Electric motors. Power is transmitted through two shafts and full load displacement is approximately 11 knots and normal operating speed is about three knots.
The vessel will carry nine officers, 11 crew, and 10 technicians. In addition to the usual living spaces, the Relentless also has a recreation room, exercise room, ship's store, and a self-service laundry.
SILJA SERENADE Cruise Ferry MAS A-Yards The Turku shipyard of Finnish builder Masa-Yards recently delivered the cruise ferry Silja Serenade to Silja Line. When she goes into service between Helsinki and Stockholm, the Silja Serenade will mark a new era in the ferry traffic in the Baltic.
Masa-Yards and Silja Line have been actively developing the "Baltic Ferry Concept" since the late fifties and early sixties. The 665-1/2-foot Silja Serenade, although it incorporates many of the design achievements of the past, is unique because of the Silja Promenade. This "main street" is a huge atrium on her main deck, with a length of 470 feet, width of 27 feet and height of five decks. The promenade is accented by skylights atop and a glass wall at the aft end of the ship, thus providing passengers with a view of both the sea and sky. Restaurants, shops, and other recreational and entertainment facilities are accessible from the promenade.
In addition, two accommodation blocks are situated on each side of the promenade, with cabins facing either the sea or the main street.
The Silja Serenade will have a gross tonnage of 58,376 tons, breadth of 103 feet, and design draft of about 22 feet. She has a passenger capacity of 2,500 in 952 cabins. Additionally, the Silja Serenade can also accommodate 450 cars or 60 trucks.
TAIHE Containership Kvaerner Govan Featured on this month's cover, the 2,716-TEU containership Taihe and her sister, the Puhe, both built by Kvaerner Govan, are the largest of their type ever built in the U.K.
and largest in the China Ocean Shipping Company's (COSCO) Shanghai division.
With an overall length of 775 feet, beam of about 105 feet and draft of 39 feet, the 45,900-dwt Taihe operates in the Pacific, calling at ports on the U.S. West Coast, Vancouver, Japan and Hong Kong. Her draft, beam and Stone Vickers bowthruster enable her to operate and maneuver in constricted, congested ports and transit the Panama Canal.
Propulsion power for the Taihe is provided by a derated Clark-Kincaid- MAN B&W 6L80MC engine, which develops 22,770 bhp at 88 rpm and a service power of 20,490 bhp at 85 rpm. The engine is capable of operating on MDO or HFO to a viscosity of 420 cSt at 56 degrees C to achieve a service speed of 19 knots. She is fitted with a Stone Manganese propeller supplied by Weardale.
The auxiliary power is produced by three Harland & Wolff 1,000-kw main alternators each driven by a MAN B&W Holeby 8L23/30 engine rated at 1,040 kw.
Built with a longitudinally framed hull, the Taihe's container capacity is provided by six fully cellular holds, which can be arranged for both TEU and FEU stacks.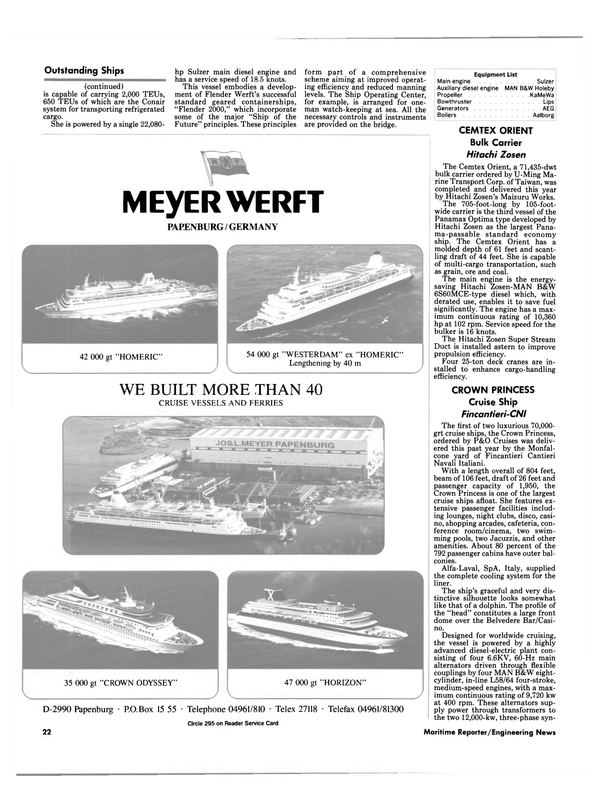 Read OUTSTANDING OCEANGOING SHIPS OF 1990 in Pdf, Flash or Html5 edition of December 1990 Maritime Reporter
Other stories from December 1990 issue
Content