European Yards Look To 'Formula' To Compete With Their Far East Counterparts
Judging from what was said at the Round Table organized by the Association of Marine Architects and Naval Engineers of Spain (AINE), held recently in Madrid, the European shipyards have found the formula that will enable them to compete successfully with their Far Eastern counterparts, and they are now putting it to work. This consists mainly of a radical new approach to production systems.
The language used by the chief executives of the large European shipyards seems to have changed a great deal over the last year or two.
Instead of insisting on the absolute necessity for subsidies in order to withstand the competition from the giants of the Far East, talk centers around just how to win over the market without subsidizing the final product. The answer appears to be: (1) generous R&D investments intended to redesign the production process by incorporating mass-production techniques like those employed by other industries; (2) interyard cooperation, involving the exchange of technologies and joint development of new prototypes; and (3) rationalization of management and statistical control of production.
Even so, practically everyone was in agreement that at least minimum subsidies would have to continue being applied until the shipyards as a whole are able to reap the benefits of their investments in technological renovation and can put more competitive production processes in full operation.
Juan Saez Elegido, marine engineer, appointed president of the public group Astilleros Espanoles just a few months ago, is a key participant in this "new style of European shipbuilding." The Spanish yard has achieved important advances in productivity. Perhaps the culmination of its ever-expanding market are the spectacular cruise ship conversion and newbuilding contracts it has recently signed.
Mr. Saez proposes to invest $120 million in a three-year plan covering 1990-92 (exactly twice the amount invested in the previous three-year period) to transform production from functional systems to zones and stages. A key measure will be to devote 1.5 million hours ("the time it takes us to make two and a half oil tankers") to personnel training.
Kurt Andersen, president of Odense Steel Shipyard, affirmed that his yard has spent a decade readying itself to compete with any other builder in the world. The yard also allocates substantial investments to production equipment and management information systems, and these are generating savings that are used to finance further improvements.
Much attention is also given to what Mr. Andersen calls "nonquantifiable" productivity factors (improved order, heightened motivation, zero task duplication).
Above all, the yard makes a policy of producing ships in series: "We are not currently accepting orders to build a single unit of one design." Jose Luis Cerezo, Technical Secretary General of the Management of the Marine Sector (pertaining to the Spanish Ministry of Industry), pointed out that the investment of the Spanish yards in R&D ($40 million by private yards and $60 million by public ones over 1987-89), has given rise to spectacular increments in productivity, but this is only the first phase of the process. The coming phase, which requires much greater outlays, will be the one that enables the Spanish yards to compete successfully with their Japanese and Korean colleagues.
This one, described in detail by Mr. Cerezo, will imply a total renovation of the production process.
But despite their recent gains in productivity, both Spain and Denmark, two of the more successful shipbuilding countries in Europe, trail Japan and South Korea by a substantial margin in tonnage under construction and on order.
According to the latest quarterly shipbuilding figures, the Far East once again dominated the list of shipbuilding countries.
With the world orderbook at its highest level since September 1977, totaling 41.6 million gross tons, Japan increased both its total orderbook, from 13.2 million gt to 15.1 million gt, and its lead over South Korea, whose orderbook fell from 9.8 million gt to 8.9 million gt at the end of the third quarter this year.
As detailed in Table 1, the People's Republic of China and Taiwan took third behind South Korea, followed by Denmark, Yugoslavia, West Germany, Italy, Spain, Brazil, Poland, East Germany, Romania, United Kingdom, Finland, Norway and Turkey.
However, the end September position changed dramatically, as did the world for that matter, on October 3 when the unification of the two Germanys resulted in a combined tonnage orderbook of 2.3 million gt, putting it in third place after Japan and Korea.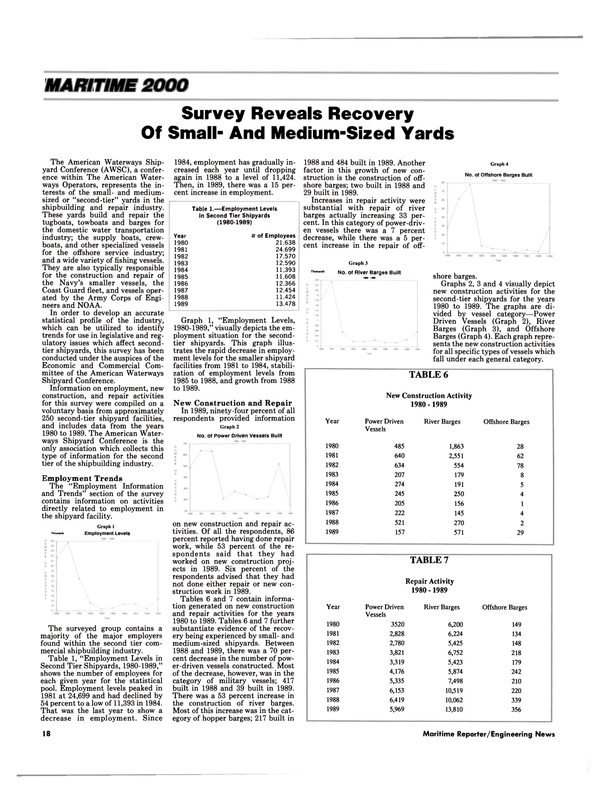 Read European Yards Look To 'Formula' To Compete With Their Far East Counterparts in Pdf, Flash or Html5 edition of December 1990 Maritime Reporter
Other stories from December 1990 issue
Content