MacGregor-Navire Cargo Access Equipment Ordered For Blue Star Reefers
The four refrigerated cargo ships ordered from the Belfast shipyard Harland & Wolff by British reefer specialist Blue Star Line are to be fitted with MacGregor-Navire (MGN) cargo access equipment.
Confirmation that the Northern Irish yard had, as long expected, secured the Blue Star order came early in August and gave the green light for MGN to proceed with all speed on production of the extensive shipsets of hatch covers— the design of which had, in anticipation, already been accepted by the yard.
Intended for worldwide trading, a principal influence on the final design stemmed from the owner's stipulation that the ships be selfsustaining and able to operate in any port wherever situated, whether or not equipped with modern shoreside facilities for handling reefer cargoes, particularly bananas.
Thus, besides the now almost mandatory provision that a new ship be designed for maximum operational economy in respect of fuel consumption and manning requirements (and in a reefer, use the minimum of power for refrigeration), the design of these fourhold, 463,000-cubic-foot vessels also incorporates cargo-handling and access equipment enabling a degree of flexibility that, together with other innovatory features, puts them in the forefront of reefership technical development.
MacGregor-Navire is to supply a total of 14 hatch covers plus eight side shell doors per ship. The weather deck and 'tweendecks Nos.
2 and 3 have four hatches on each, with deck No. 4 in holds 2 and 3 having two only. The weatherdeck covers and those on deck 3 incorporate provision for thermal insulation.
Chosen for all hatches are covers of the folding type. Those on the weather deck are actuated by external cylinders with the innovative "rack-back" (i.e., slotted) hinge—a feature that enables fully automatic cleating at all points around the perimeter and at the cross joints. Each cover, comprising four panels, operates and stows in single pairs. They are designed to permit stowage on top of a single tier of 20-foot/20-ton containers.
Though also hydraulically operated, the 'tween deck covers employ a different system of actuation— a combination of cylinders and link mechanisms deriving their power from mini-packs located within the panels.
Write 18 on Reader Service Card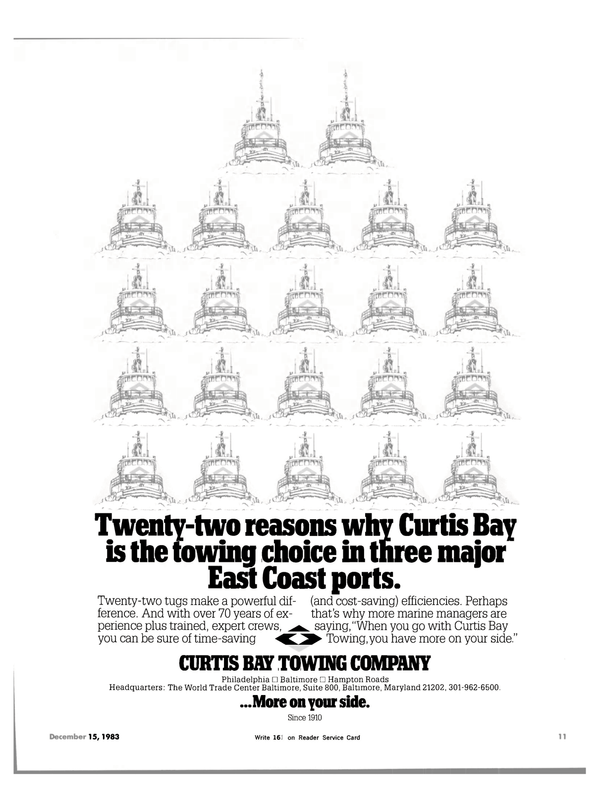 Read MacGregor-Navire Cargo Access Equipment Ordered For Blue Star Reefers in Pdf, Flash or Html5 edition of December 15, 1983 Maritime Reporter
Other stories from December 15, 1983 issue
Content