Congressional Coalition To Seek Solutions To Shipyard Problems
A group of 41 members of Congress have banded together to form a bipartisan Congressional Shipyard Coalition that will direct its efforts toward the promotion of federal policies which will expand American shipbuilding and repairing.
At a news conference, Lindy Boggs (Dem.-La.) and Paul S.
Trible Jr. (Rep.-Va.), co-chairmen of the Coalition, explained that the group was created partially in response to the Administration's recommendation that naval shipbuilding be cut by 50 percent over the next 10 years. Congressman Trible echoed Mrs. Boggs's concern that "There's no coherent recognition of the problems shipbuilders face and, without a coordinated policy on national shipbuilding, this trend will continue." During the news c o n f e r e n c e that was held in the Capitol, the Congressmen e x p r e s s e d alarm over the sharp drop in merchant marine and naval ship construction in recent years. In a "Memorandum of Purpose," Coalition spokesmen declared that many shipbuilding facilities lie idle, and industries allied with shipbuilding are also suffering decline and unemployment. The Congressional Shipyard Coalition plans to seek "rational and reasonable" solutions to these problems within the existing framework of federal legislation, regulations and other policies which affect American shipbuilding.
"We plan no massive outlays of federal funds," states the Memordandum. Instead, Coalition members will work toward more cohesion and more coordination at all levels of government, industry and labor "in the evolution of a fully efficient and competitive U.S.
shipyard industry. N o t i n g the long tradition of shipbuilding in the United States, the Coalition expressed the hope that coordinated action could reduce unemployment and insure the availability of high quality shipyards for national defense and trade.
The complete text of the Congressional Shipyard Coalition's "Memorandum of Purpose" follows: " T h e people of the United States, even before this Nation achieved its Independence, have been shipwrights and mariners.
From Colonial times, the national security of the United States has relied on the availability of quality shipyard facilities for both shipbuilding and shiprepairing.
Today, American shipyards employ in excess of 176,000 men and women. It is essential that this national resource be maintained.
"With alarm we observe the pace of merchant marine and naval ship construction dropping sharply. Prospects for additional work are now uncertain at best.
Production facilities incorporating modern shipbuilding techniques are threatened with inactivity.
As a direct result, many supporting endeavors which employ skilled workers in all parts of the nation will be severely affected.
"Recognizing that positive actions to reverse developing trends are imperative, we, the undersigned, have joined together to form a Congressional Shipyard Coalition to pursue legislative as well as administrative remedies to the present situation. Our concerns extend beyond parochial interests.
Our purposes are to enhance the national security and gross national product.
"Accordingly, we the members of the Congressional Shipyard Coalition, pledge ourselves to the task of ensuring the continuity and sufficiency of a balanced shipyard capability and a trained shipyard workforce to accommodate the shipbuilding and shiprepairing needs of the United States at all times. We seek rational and reasonable solutions to current and coming problems. We seek the advice and countenance of those, in and out of government, who are equally concerned, but will e x e r c i s e independent judgments.
"We contemplate no unorthodox experimentation. We plan no massive outlays of federal funds.
Within the framework of existing statutes, regulations and policies, we shall promote change pointed toward more cohesion, more co- ordination and more effectiveness at all levels of government, industry and labor in the evolution of a fully efficient and more competitive U.S. shipyard industry.
"To these ends, we, the members of the Congressional Shipyard Coalition, hereby dedicate our best efforts and earnestly solicit the cooperation of our colleagues." Members of the Congressional Shipyard Coalition are: Joseph P.
Addabbo (D-N.Y.), Glenn M. Anderson (D-Calif.), Thomas L. Ashley (D-Ohio), Lindy Boggs CDLa.), John B. Breaux (D-La.), Clair W. Burgener (R-Calif.), James A. Burke (D-Mass), Goodloe E. Byron (D-Md.), William S.
Cohen (R-Maine), John E. Cunningham (R-Wash.), Robert W.
Daniel Jr. (R-Va.), Mendel Davis (D-S.C.), Norman D. Dicks (DWash.), Robert W. Edgar (DPenna.), Jack Edwards (R-Ala.), David F. Emery ( R - M a i n e ) , James J. Florio (D-N.J.), Bo Ginn (D-Ga.), Marjorie Holt (R-Md.), Joseph A. LeFante (D-N.J.), Robert L. Livingston (R-La.), Clarence D. Long (D-Md.), Gillis W.
Long (D-La.), Trent Lott (RMiss.), Barbara Ann Mikulski (DMd.), Parren J. Mitchell (D-Md.), Henson Moore (R-La.), John M.
Murphy (D-N.Y.), Morgan Murphv (D-Ill.), Marv Rose Oakar (DOhio), Joel Pritchard (R-Wash.), Fred B. Rooney (D-Penna.), Glady Noon Spellman (D-Md.), Fortney H. Stark (D-Calif.), David C.
Treen (R-La.), Paul S. Trible (RVa.), Lionel Van Deerlin (DCalif.), Joe D. Waggonner (DLa.), G. William Whitehurst (RVa.), Bob Wilson (R-Calif.), and Leo Zeferetti (D-N.Y.).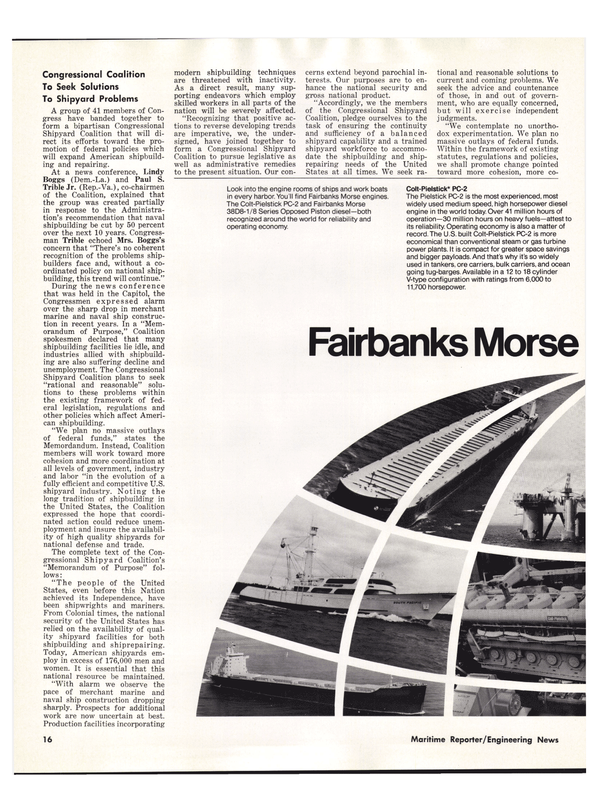 Read Congressional Coalition To Seek Solutions To Shipyard Problems in Pdf, Flash or Html5 edition of December 1978 Maritime Reporter
Other stories from December 1978 issue
Content