GREAT WORKBOATS: The Very Best 10 of 2018
By Joseph Keefe
MarineNews showcases the ten best of North America's 2018 workboat deliveries. Domestic shipyard production is robust, innovative and getting greener. And, that translates into two kinds of 'green.'

As the domestic offshore energy support sector slowly awakens, other sectors have been happy to take the spotlight in its absence. As always, and if a hull was delivered in 2018, we took a look at it, with several areas as a focus for inclusion into this edition. For my part, I'm always excited when the U.S. boatbuilding sector can deliver for a foreign buyer. We've checked that box here. And, that's because we can compete on price, quality and when we do, it's on schedule.
No less important is the environmental footprint of a vessel, and there was plenty to report on from that angle in the past 12 months. The domestic waterfront is indeed getting greener and cleaner. Finally, innovation wasn't in short supply, either. Catering to myriad requirements and missions, North American builders churned out a steady list of quality vessels, each unique in its own way. The best of those designs and deliveries are chronicled below:

M/V Tazlina
M/V Tazlina is the first ferry of its kind ever built in Alaska by Alaskans. As such, it is a symbol of Alaska Marine Highways System (AMHS) and the state of Alaska's commitment to build Alaska's maritime sector, provide more opportunity for Alaskan workers and connect Alaska citizens in remote areas. The vessel design and construction had to overcome the challenges of Alaska's heavy seas, high winds and freezing spray. Testing was performed on the hull form in a wave tank at Force Technology Denmark to allow designer, Elliott Bay Design Group, to optimize performance in heavy seas and improve passenger comfort. The vessel is classed ABS Ro/Ro, carries 300 passengers and 53 vehicles loaded via both a bow and stern door.
M/V Tazlina is the first of two Ro/Ro ABS Classed Passenger Ferries built by Vigor in Ketchikan for the State of Alaska, Alaska Marine Highway System. The two day-use ferries will be virtually identical, and will serve the Lynn Canal area. The vessels have no staterooms or crew quarters. They will have a passenger capacity of 300, and will be able to take up to 53 standard vehicles.
NYPD's "CT3"
NYPD Counterterrorism Division's new Moose Boats M1-46 catamaran exemplifies Moose Boats' design and execution philosophy of incorporating state of the art systems protecting the public from the unseen without compromise to day-to-day functionality. NYPD's vessel "CT3" is the evolution of the proven M1 catamaran and the most advanced Moose Boat built to date. CT3 has an around the clock mission to protect the City of New York's waterways regardless of weather and marine conditions.
Equipped with electric heated decks capable of eliminating ice, NYPD's Counterterrorism Division is always ready to respond regardless of environmental conditions. The new Moose Boat is equipped with the latest offering from Hamilton Jet called "Jet Anchor" enabling its operators hold position at the press of a button from either the enclosed pilothouse or open upper bridge station. FLIR's new M400 thermal imaging and visual camera, Coda side-scan sonar, satellite communications equipment, and the most sophisticated radiation detection system on the water make NYPD CTD's Moose Boat a true maritime surveillance, detection and maritime command center.
Buzzworthy
Built to order in the United States, RIBCRAFT is the only manufacturer who specializes exclusively in building professional grade rigid inflatable boats (RIBs). The workhorse of the RIBCRAFT line, the RIBCRAFT 9.0 is designed specifically for offshore rough water conditions. RIBCRAFT's signature deep V hull coupled with full length lifting strakes provides unparalleled handling characteristics.
This RIBCRAFT 9.0, the Buzzworthy, accommodates most applications with numerous deck configurations available ranging from an open center console for workboat operations to multiple seats for tour operations or a console enclosure for all weather operations. New England EcoAdventures took delivery of a new USCG certified RIBCRAFT 9.0 to provide whale watching excursions, thrill rides, and coastal tours in Kennebunk, Maine. With jockey-style pod seats forward of the operator console, this 29' RIB was certified to carry 14 passengers. Featuring a heavy duty yellow 1670dtx Hypalon tube with black rubstrake and upholstery, an aluminum canopy top with two folding dive ladders, a marine head with holding tank, and a full Garmin electronics package including GPS, radar and AIS, this boat is ready for adventures all over the Maine coast. Powered by twin Yamaha 300HP engines, the RIB will reach speeds in excess of 50mph.
Assateague
While celebrating its 120th anniversary early in 2018, Vane Brothers took delivery of the first of three new articulated tug/barge (AT/B) units ordered through Conrad Shipyard: the 4,400-horsepower tug Assateague (designed by Castleman Maritime and built at Conrad's Orange, Texas, facility) and 80,000-barrel barge Double Skin 801 (designed by Bristol Harbor Group and built at Conrad's Amelia, Louisiana, facility). This was the first new AT/B to join the Vane fleet since 2007. The Assateague Class of AT/B tug now also includes the Chincoteague, delivered this summer, and will add the Wachapreague this winter. All 130 active Vane Brothers vessels are primarily tasked with the movement of petroleum products engaged in the North Atlantic coastwise trade. Assateague no doubt will more than aptly augment Vane's already impressive fleet and capabilities.

Dutch Caribbean Coast Guard 38 Defiant Patrol Boat
Four new high speed patrol boats manufactured by Louisiana, USA-based shipbuilder Metal Shark for the Dutch Caribbean Coast Guard (DCCG) have been commissioned on the island of Curacao. The new vessels are the first to be delivered to the DCCG under a 12-boat order announced last year. Designed in-house by Metal Shark and built at the company's Jeanerette, Louisiana production facility, the welded aluminum, enclosed-pilothouse, 38 Defiant monohull patrol boats are the result of a multi-year effort by the DCCG to procure a replacement for its fleet of open-cockpit RIBs. The new vessels will serve as the DCCG's main interceptors, patrolling the territorial waters of Aruba, Bonaire, Curacao, St. Eustatius, St. Maarten, and Saba.
The 38 Defiant reaches top speeds in excess of 45 knots. A fully-enclosed pilothouse shields the crew from the elements, while Metal Shark's signature "Pillarless Glass" pilothouse arrangement assures unimpeded visibility, day or night. Specially engineered composite armor panels provide ballistic crew protection from unfriendly fire. Shockwave Corbin shock-mitigating seating has been provided for a crew of six, and anti-fatigue floor covering has been employed in the pilothouse and the below decks crew spaces. A urethane-sheathed, closed-cell foam Wing collar provides durable and resilient fendering. For extended patrols at sea, accommodations include an enclosed head compartment, galley, and v-berth.

Venture
The National Geographic Venture is a Jones Act compliant, purpose-built expedition cruise vessel made for exploring coastal waters, shallow coves, and fast-moving channels where wildlife congregates; while sailing with the luxury of supreme comfort for both guests and crew alike. This state-of-the-art-vessel was designed, and built in the USA; and, sails internationally to Costa Rica, Panama, and Belize, and nationally to Baja, California; Alaska; and the Pacific Northwest. The impressive Venture carries 100 guests and 50 crew members who embark on a once-in-a-life-time expedition. The ship is fully stocked with exploratory equipment, from zodiacs, kayaks, cameras, snorkel equipment and so much more. The ship has 50 luxury guest staterooms accommodating 100 guests with access to an expansive dining room, spacious and luxurious lounge, on board gym and spa, equipment lockers, sun deck, and observatory deck.
Rosemary McAllister
McAllister Towing's tug Rosemary McAllister is the second in a series of four 80 metric ton bollard pull tugboats, and is the 32nd tractor tug in McAllister's fleet. Notably, The vessel is powered by 3516E Tier IV Caterpillar engines with twin Schottel SRP4000FP units. Packed into her hull is 6,770 horsepower. She has already exceeded expectations as she achieved 82.75 metric tons during her ABS bollard pull certification. The Rosemary joins sister vessel Capt. Brian A. McAllister as one of the earliest EPA Tier IV tugs on the U.S. East Coast. Combining her power with a class III escort winch on the bow and a 2 1/4" wire towing winch on the stern puts the Rosemary at the head of her class of shipdocking tugs. State of the art remote controlled fire monitors and deluge systems (ABS FiFi certified) complete the package, making the tug a total Escort /Shipdocking/Rescue vessel unique to any East Coast port. The Rosemary McAllister is named after the matriarch of the company. Rosemary is Chairman Capt. Brian A. McAllister's wife and mother to President Buckley McAllister and CFO Eric McAllister.
Crowley's El Coquí
Crowley Maritime's El Coquí is one of the world's first combination container/roll on-roll off (ConRo) ships powered by liquefied natural gas (LNG), from shipbuilder VT Halter Marine Inc. El Coquí is the first of two Commitment Class LNG-powered ConRo ships being built for Crowley's shipping and logistics services between Jacksonville, Fla., and San Juan, Puerto Rico. The new Crowley ship, built specifically for the Puerto Rico trade, will be able to transport up to 2,400 twenty-foot-equivalent container units (TEUs) at a cruising speed of 22 knots. A wide range of container sizes and types will be accommodated, including 53-foot by 102-inch-wide, high-capacity containers, up to 300 refrigerated containers, and a mix of about 400 cars and larger vehicles in the enclosed, ventilated and weather-tight Ro/Ro decks. This type of shipboard garage is offered exclusively by Crowley in the trade.
The vessel, in a nutshell, is one of the most technically-advanced and environmentally-friendly vessels in the world today. Fueling the ships with LNG will reduce emissions significantly, including a 100-percent reduction in sulphur oxide (SOx) and particulate matter (PM); a 92-percent reduction in nitrogen oxide (NOx); and a reduction of carbon dioxide (CO2) of more than 35 percent per container, compared with current fossil fuels. Working with Eagle LNG Partners, the ships will be bunkered from a shoreside fuel depot at JAXPORT.
Hampton Roads
This is not your grandfather's pilot boat. The 55-foot Chesapeake class MKII launch built by Gladding-Hearn Shipbuilding was delivered to its station in Virginia Beach this summer, equipped with a range of state-of-the-art technologies for improved safety, stability, reliability and efficiency. Chief among Hampton Roads' high-tech features is its Volvo Penta propulsion system. The vessel is powered by twin 13-liter 900 hp D13-700, EPA Tier 3-certified diesel engines, each connected to an IPS-3 propulsion pod with integrated underwater exhaust, as well as Volvo Penta's EPS electronic steering and control system. The IPS uses highly-efficient steerable pod drives with dual counter-rotating forward-facing propellers that pull the boat through "clean" water rather than push, said Jens Bering, VP, marine sales, Volvo Penta of the Americas. The setup provides a number of operational enhancements, including 20 percent faster speeds (top speed over 32 knots) and 30 percent lower fuel consumption compared to a traditional inboard shaft system, the manufacturer said. It also slashes onboard noise and vibration levels by half.

Comfort and greater stabilization are delivered by a transom-mounted interceptor system from Humphree USA. The electric-powered interceptors deploy retractable blades that adjust automatically to create lift that counteracts the vessel's roll and pitch motions. The system optimizes the attitude of the boat underway, helps to save fuel, takes load off of other systems, and provides better control and safety while maneuvering. In other words, the Hampton Roads, built by perhaps the most recognizable name in the pilot boat industry, has all the bells and whistles, ready for any mission that might come next.

Ellis Island
In late November 2017, Great Lakes Dredge & Dock Corporation (GLDD), the largest provider of dredging services in the United States and a major provider of environmental and infrastructure services, took delivery of the new build ATB hopper dredge Ellis Island and tug Douglas B. Mackie after successful completion of United States Coast Guard and ABS regulatory sea trials. Representing a substantial reinvestment in the GLDD (and U.S. flag dredging) fleet, Ellis Island significantly increases the United States commercial Jones Act hopper fleet capacity as the largest hopper dredge in the United States market, with a carrying capacity of 15,000 cubic yards.
The state-of-the-art vessel's first assignment was the Mississippi Coastal Improvement Program project. The Jones Act compliant, Dual Mode Articulated Tug/Barge (ATB) Trailing Suction Hopper Dredge was built by Eastern Shipbuilding. With the tug designed and engineered by Ship's Architect, Inc. and the Hopper Dredge Barge detail designed by Bay Engineering, both vessels are based on concept designs by Ocean Tug & Barge Engineering. The construction of the new build ATB hopper dredge ELLIS ISLAND and tug DOUGLAS B. MACKIE took place in Panama City, Florida at Eastern Shipbuilding Group.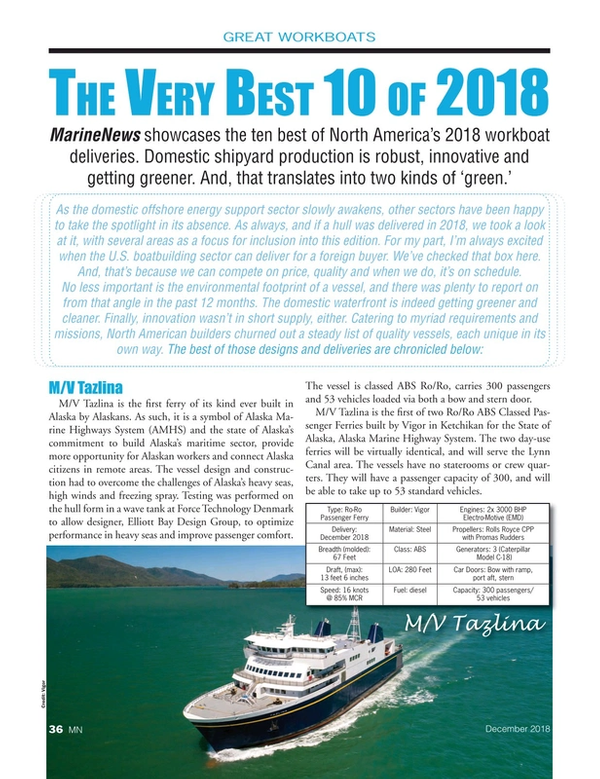 Read GREAT WORKBOATS: The Very Best 10 of 2018 in Pdf, Flash or Html5 edition of December 2018 Marine News
Other stories from December 2018 issue
Content